Time and labor costs are avoided with these attachments, which is a simple indication of how much mechanics and technology have entered our daily lives.Designed to reduce the volume of aggregates directly in the field, Galen grinder buckets with rotor system provide optimum performance when working with iron, rock, soil and deformable parts and wet or damp materials. Ideal for crushing reinforced concrete and demolition waste.
Of course it is the ability to design the technological infrastructure that provides this.The extraordinary cutting force allows any material to be crushed due to the rotor with teeth activated by high displacement radial piston hydraulic motors in direct drive. Crushable materials: bricks, reinforced concrete, natural aggregates, concrete, tiles, glass and asphalt boards. The soil is not affected by the presence of wet or damp material or iron bars.Galen Grinder Buckets are here to save you time and money!
With its strong infrastructure, Galen Group is known in the world for the manufacture of attachments which are considered as lightweight robotic world.For easy on-site crushing, the grinder bucket attachment is used to grind and reduce materials on site that will be reused or sold to third parties. Our excavator grinder buckets can process all types of inert material, such as stone, concrete, asphalt and more.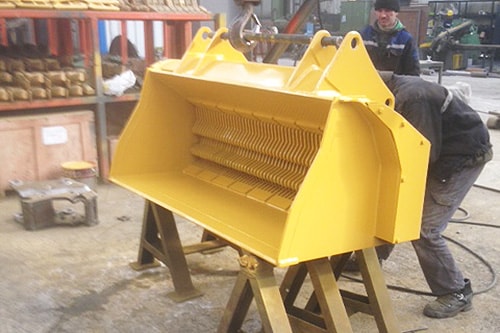 Avoid shipping, garbage site costs and additional mechanical equipment with our high performance and durable rock and concrete grinding buckets!The new heavy duty Galen shredder bucket attachments are designed to meet the requirements of the demolition, recycling and quarrying industries.
Reversible crushing: This reduces the potential for jamming, clogging or rebar clogging, while providing higher production levels and reducing the need for any manual participation in the crushing process.
Feed plate design built into the jaw: It ensures that the feeding function in a fully loaded chamber offers high production rates with minimal bridging risk.
Simple mechanical pin adjustment for output size regulation: Quick adjustment for various output features makes the whole grinding process easy and safe.
The grinder 'opens like an oyster': Thanks to this design, easy and quick replacement of wear parts minimizes risk and maximizes productive crushing, ensuring easy access, time-consuming maintenance.